You are what you drive: How are personalities from Audi, BMW, Mercedes-Benz and Porsche perceived? - A comparison between China and Germany 
Part 1  
Author: Yue Liu, Evelina Lang, with support from Dirk Obermeier 
In our brand perception research studies, we often ask the question:  
Imagine the brand XY was a person, what kind of person do you see now?  

What gender does this person have?  

How does he/she look?  

What kind of job does he/she do? 
What kind of hobbies does he/she have? 

Why do you have such an impression of this brand?  
With these answers from our respondents from various studies, we see a vivid picture of the brands as different persons. We also know that this "brand personality image" impression mainly comes from the drivers our participants observed in their personal life and/or on the streets and social media.  
For this article, we also did some desk research to get objective public information and compared them with our results. Based on all the data, we see differences and similarities among the brands' personalities. This is not a market research study result presentation nor scientific research. We use the topic "brand image as a person" to explain the cultural, political, and economic background and further: how the brands got their image in China and Germany.  
But before we talk about the topic of cars, we need to explain some general cultural insights regarding the topic "when will one earn enough money to afford a premium car". 
Germany: The society is very stable.  
Career starters in Germany start with a low salary. Most Germans marry from the age of 30 onwards and start to raise a family, which costs a lot of money. Meanwhile, most of them are still working hard in the company and some may have become senior managers. Then at the age of 40-50, the "golden age" of Germans, many continue to climb the career ladder and try to become the leader of a department. In this period Germans earn enough money in the best case to afford a premium car. At the age of 60, when the children have usually already moved out, Germans have more money left.    
China: The society is everything except stable, esp. in the 1980s – 2010s 
In the turbulent 1980s, those in China who were rich (old rich) either left mainland China or had their assets taken away completely. Everyone was "the same poor" back then. After the 1990s, some Chinese (between 20-60 years old) seized the opportunity of China's economic development and accumulated their first fortune. That is how the "new rich" (entrepreneurs) are born in the first place. 
After 2009, the real estate world started to boom. Those who got rich in the 90s started their real estate speculation. At the same time, people who had to move because of new real estate projects got a huge amount of money or 2-10 new apartments as compensation. The factor "age" didn't play a role here.   
Of course, there are hard-working people in China as well. It is similar to Germany where you have to work hard to become a team/department leader. Or one has gathered enough resources and networks to starts an own company and earns enough money to afford a premium car. But normally this happened before turning 40 years old. In the Chinese mind, 35-40 are the best years of men (26 for women). If one has not achieved anything before 35-40, the possibility of getting rich will reduce to almost 0 %.   
Meanwhile, the booming IT industry right now has also made it possible for many young engineers to earn more money than others. But they also face the threat that they might get easily replaced by the younger engineers once they reach the 35-40 age mark.    
So now let's take a closer look at the different perceptions of car brands: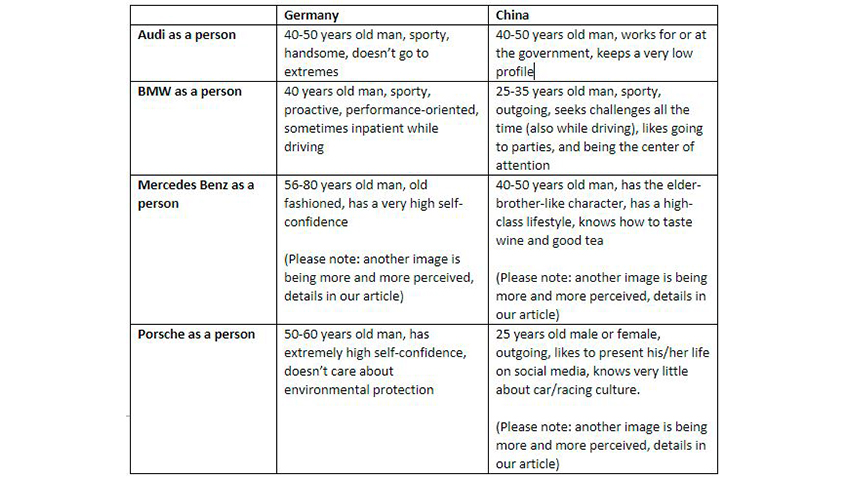 Audi  
Germany 
Image: Male, 40-50 years old 
Characteristics: Handsome and sporty. Takes the middle path, doesn't go to extremes. But at the same time has his own opinion about his preference and won't change his mind easily. For example, when it comes to the question "who has the best all-wheel-drive technology?" 
Economic situation and occupation: Income and job are in the high middle class, such as businessman, computer engineer, etc., but not the real elite yet. 
Cultural background and history:  
Audi was not a premium brand like Mercedes or BMW before 1990. Instead, its Passat-based Audi 80 had a "grandfather's car" image (1). The cars also had a low performance of their base engine. This brand is rather ranked at the same level as Volvo and Saab.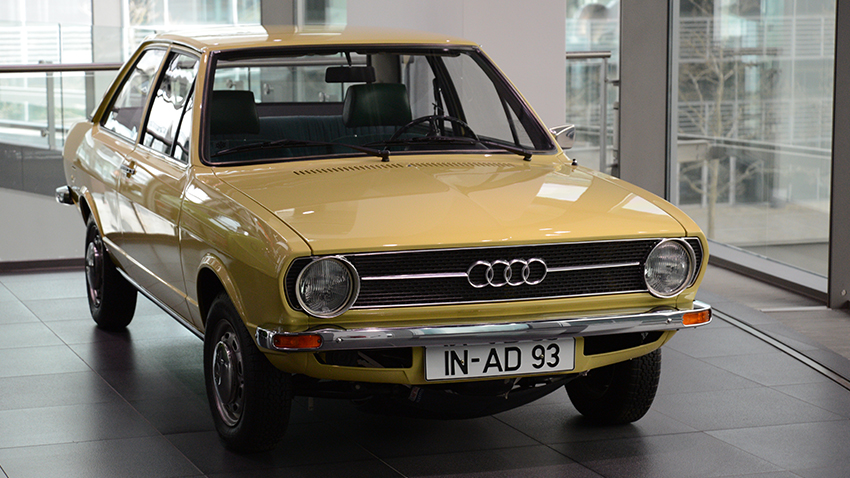 Audi 80
(Rudiecast / Shutterstock.com)
At the beginning of 1990, Audi began to shift its target market upscale to compete against Mercedes and BMW.  Audi put a great effort into the automotive technology area as well as the car design (2). Later, Audi V8 was released in 1990. This is also the very first Audi model the Chinese are familiar with. VW joint Venture China designed Audi 100 based on this model.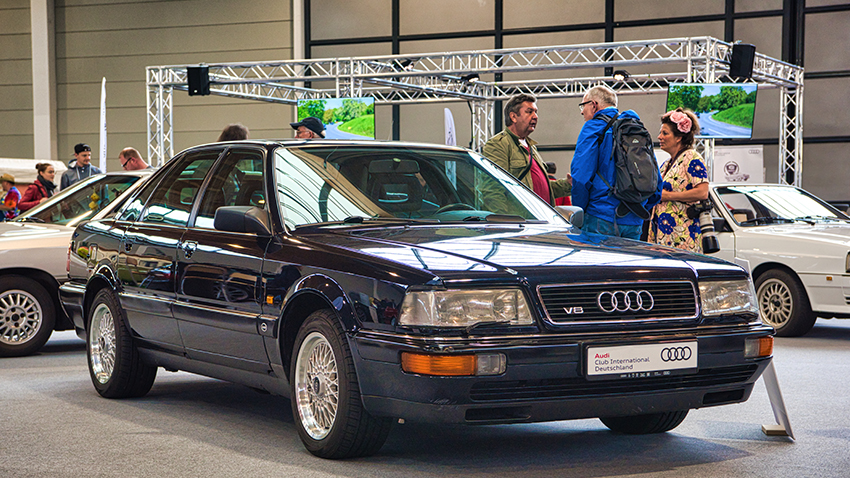 Audi V8
(Dmitry Eagle Orlov / Shutterstock.com)
After V8, Audi released a series of cars with sporty designs and good quality, such as Audi quattro Spyder (prototype) and Audi Avus quattro (design study). This development has changed consumers' opinions in Germany. At the end of the 90s, Audi successfully positioned itself at the same line as the premium brands BMW and Mercedes (3).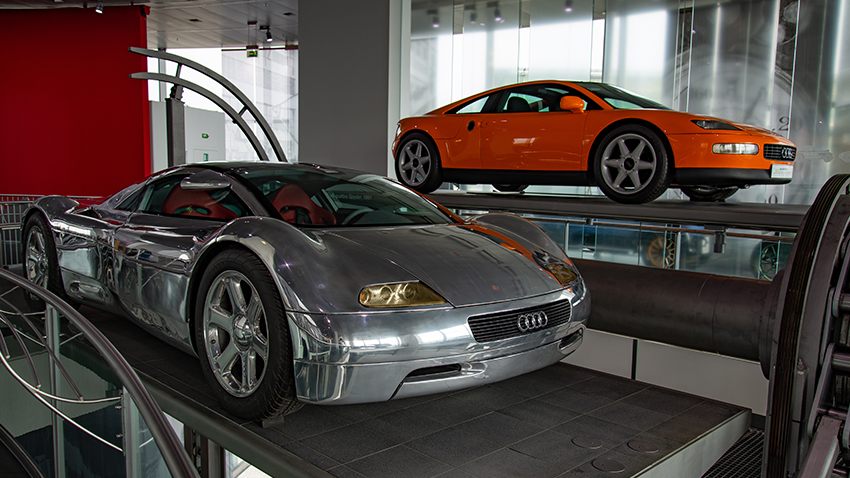 Audi Quattro Spider & Audi Avus Quattro
(Rudiecast / Shutterstock.com)
China 
Image: Male, around 40-50 years old 
Characteristics: Nothing particular or special, has no noticeable personal highlight or hobbies, working at/for the government. Has a similar character to a student with a science major: likes to stay at home, only goes out for dinner when there are no other choices, has very few hobbies but occasionally likes to study electronic products. 
Economic situation and occupation: Income unknown, mostly government employees or working closely with the government  
Cultural background and history: 
Back in the 80s, Mercedes (S-Class), BMW (7 Series), Lincoln, and Cadillac were used by the government, but these were all (expensive) imported cars. VW was one of the first foreign companies to establish a joint venture with China (cooperation between Chinese factories with manufacturers from Europe/USA), with Shanghai VW in 1984 and FAW VW in 1991. 
In 1994, the central government issued an order banning government officials from purchasing cars that are priced beyond a certain price range, which threw all imported cars out of the purchase list. Audi was the most common premium brand among all the joint venture brands, so it's 100 and 200 replaced all imported brands as the most common premium government car (Chines are not aware of the history of Audi). Moreover, Audi's non-aggressive, low-profile appearance matched the style of government officials and the public's expectations of the "servant of the people". Since then, Audi has been closely associated with government cars.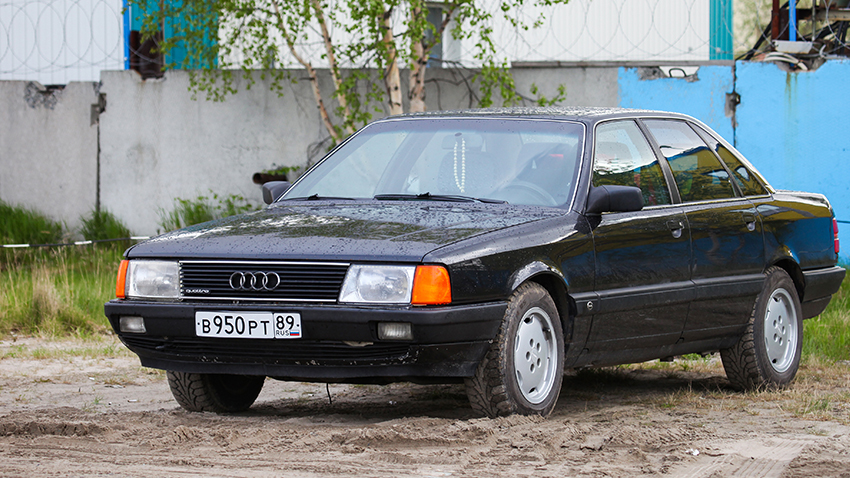 Audi 100
(Art Konovalov / Shutterstock.com)
Audi A6
(RoClickMag / Shutterstock.com)
But in 2011, the central government lowered the purchase price range for government cars which kicked Audi's cars out of the purchase list. This led directly to a change in Audi's strategy and therefore, Audi had to target the "middle class". Later, the A1 was introduced to the Chinese market. However, the impression of an official car is still in everyone's mind and people who buy an Audi today are still working for the government. 
BMW  
Germany 
Image: Male, around 40 years old 
Characteristics: Loves sports, in a good body shape, generous and cheerful. Has a high (sometimes too high) self-confidence. Proactive, performance-oriented, sometimes inpatient, for example, while driving, enjoys overtaking other cars.  
Economic situation and occupation: Middle to high class, such as working in the financial area, entrepreneurs. 
Cultural background and history: 
BMW stands for Bayerische Motoren Werke GmbH. It was founded as a manufacturer of aircraft engines. After the first world war in 1918, Germany was banned from producing aircraft (Treaty of Versailles), so BMW started to develop high-performance engines for motorcycles. In 1929 and 1937, motorcycle racer Ernst Jakob Henne achieved two world records with BMW motorcycles (216.75 km/h and 279.5 km/h) (4). 
Since 1927, BMW started to develop vehicles and the cars always had a stronger PS performance than cars at the same level. BMW was also highly active in the car racing business. The Sport-Roadster 328 established BMW's reputation as a manufacturer of sporty automobiles, which was remembered even after the war (4).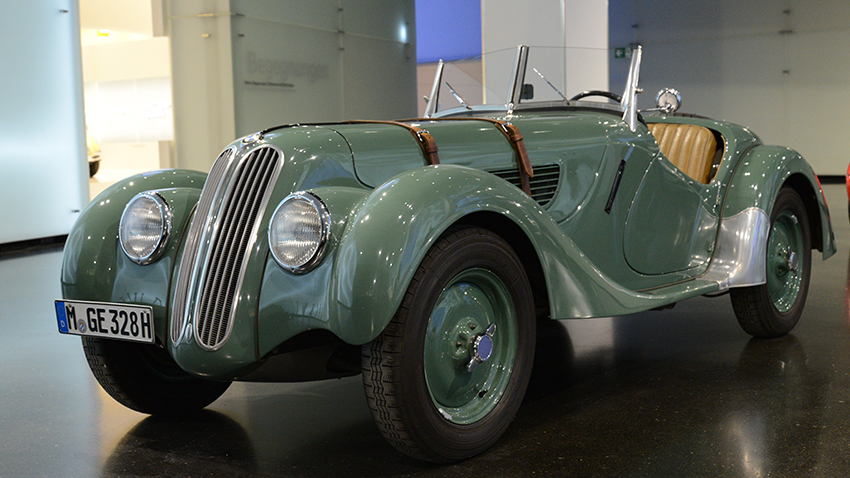 BMW 328
(Rudiecast / Shutterstock.com)
At the beginning of the 1990s, BMW started the cooperation with the Rover Group with its car brands Rover, MG, Mini, and Land Rover, as the brand believed that it could only survive on the world market in the long term as a large volume manufacturer. But the cooperation was not going well. One of the many negative aspects was Rover's model range which was seen as outdated and conservative and therefore unattractive. This led to the end of the Rover Project in 2000 and the Mini small car brand was thus the only one to remain in the BMW Group5. After the end of the Rover project, the BMW Group realigned itself and focused primarily on vehicles in the premium segment. Today, with the Mini, BMW, and Rolls-Royce brands, the BMW Group offers a wide range from small cars to high-end luxury sedans (5). 
China 
Image: Male, 25-35 years old 
Characteristics: A sports fan, which has a lot of energy and likes (outdoor) sports. Strong personality, ambitious, seeks challenges, may not pay attention to small details thus sometimes appears to be a little bit reckless and careless. Likes going to parties and being the focus. Likes watching popular Hollywood movies in the cinema and enjoys going out to dinner. Enjoys trekking with family and friends.  
Financial situation and occupation: Owner of a small private company, or manager at a company, but not a top manager.    
Cultural background and history:  
BMW (Sedan), translated as "the noble precious horse", entered the Chinese market in 1994 with imported BMW models such as the 5 Series and a few models from the 7 Series (Joint Venture was founded in 2003). Its strength of offering the driving fun is well known, everyone knows "A Mercedes is a car for you to sit in (and to enjoy being driven), an BMW is a car for you to drive." 
Back to the time of reform and opening up in China, a small group of people doing small and middle-size business suddenly became very wealthy. These people were ambitious, challenging but also "unstable" at the same time. They were not well educated in terms of aesthetic taste, for example when it comes to dressing. They couldn't afford a more expensive Mercedes, Audi belonged to the government, so BMW was the perfect fit.  
Price of the BMW 528i in 1996: 760.000 Yuan (99.021 Euro), (rare) 704i: 940.000 Yuan (122.474 Euro) (6). 
BMW's advertising focuses on driving pleasure and well-performing in extreme road situations. This is very appealing to drivers who like the sporty driving style. Their careless driving behavior on the road also labeled BMW owners as reckless. But recklessness can also be described as "passionate". Nowadays, BMW drivers are not perceived as "rich people with little aesthetic taste" anymore. They are seen as young men who love the outdoors with a healthy lifestyle.  
About 10 years ago, BMW (Sedan) in pure red color was once very popular among young men. The sporty image and red color was used to emphasize the drivers' outgoing character and to attract young women. While the standard has been raised now: sports cars are the new status symbol. 
In the second part of the article, we will talk about the brand personalities of Mercedes Benz and Porsche. Follow us on Linkedin to receive the latest update.